<-STORY | NEWS | REVIEWS->
Rex Paul Schnelle (born December 9, 1964) is a American multi-instrumentalist, with a certain guitar virtuosity, who is also a singer, songwriter, and record producer. He has performed a diverse range of styles while serving as a producer at Sony ATV music publishing, as a solo artist, and as an "imagineer" of all forms of musical art. The late singer/songwriter Jamie O'Hara exclaimed, "I don't know how one guy can create so much music and sound like a complete seasoned band, mixed and mastered, like he can, but he has the magic." 
Billboard's 3-time Producer of the Year and shredmaster Dann Huff say, "In essence, Rex is in total control of his instrument. Chops are not an issue – Rex has prowess and more. But in a day when people are willing to just 'put out music,' one is immediately aware that Rex's passion comes across strongly from the first note – there is no higher praise I can give."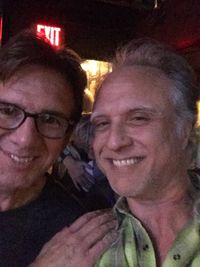 Virtuoso Eric Johnson believes, "Rex is a talented musician, not only with a fine guitar style, but as an accomplished singer and song writer as well."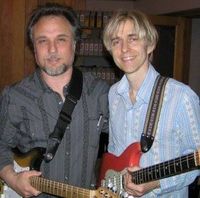 "I have come to believe that Rex Schnelle is one of the best guitarists around these days." Says guitar legend Phil Keaggy, "His versatility is obvious on his own and many other recordings he has lent his hands to. Be sure to listen to his latest CD. Great stuff!" He goes on to add, "I tell a lot of people about Rex Schnelle because he's a talented musician, plays multiple instruments, a fine singer producer, recording engineer and a real good friend!  We met a number of years ago and he invited me to play on several of his songs from his early albums he was making at the time. One was called Hero Shuffle and then we both embarked on an album together- a collaboration we called Illumination. 
"There was so much creative energy with us working together. It was a blast. On one particular tune I gave him the chorus section of the song I had come up with and the chords to what would be the verses. He went home and structured the whole piece playing all the instruments, drums bass, guitars keyboards and presented it to me and I was blown away. We wrote verses to the track and then he mixed and mastered it beautifully!
"I had friends listen to our illumination album and they asked me who the players were, having been impressed with the performances, and I said it's this guy - my buddy Rex Schnelle. 
"Since illumination I have been able to play on a song of Rex's newest album - just out now and he in turn has helped me with some new recordings including Randy Stonehill's classic song Lazarus Heart. 
"Rex has many years of experience in the music business but what most impresses me is his faith in God and love for people. A fine compadre!"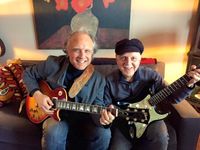 A native Texan (you've seen the bumper stickers), from Marble Falls, and later Austin, he began his professional career in 1979 with the band Next Exit, moving to Austin in 1983 to attend The University of Texas. He joined area bands Rapture, Alliance, and a few other power trios, recording his first EP in 1984. He soon joined Philip Sandifer's band and toured with them through the late 1980's. 
Married to Deborah (former member of  hit CCM group Sierra) in 1989, they moved to Nashville to pursue touring, writing and producing with CCM band Rushca in 1990. Signed to Sony ATV Publishing as a writer/artist in 1992, with singer/writer Danny Moore, they went on to form Danny Boy, shooting for the elusive record deal. Instead, connected to the vast music magic making apparatus in Nashville, from then up to the present, Rex's highly sought out skills led him to producing over 2000 demos for up-and-coming country and pop acts, as well as an occasional record credit. The list of artists include James House, Wade Hayes, Blake Shelton, Terry Clark, Miranda Lambert, Lee Ann Womack, Pam Tillis, Rhett Akins, Josh Turner, Dierks Bentley, Allyson Taylor, Eric Church, John Cowan, Dr. Nick, Telluride, Adam Craig, Tim McGraw, the esteemed Bill Anderson (co-producing 4 of his records, one with guests Brad Paisley, John Anderson, Vince Gill, Willie Nelson), Waylon Jennings, The Everly Brothers, Jaime O'Hara, Olivia Newton John, Jon Bon Jovi, Randy Bachmann, Jack Blades, Brooks and Dunn, John Rich, Jessica Simpson, John Arthur Martinez, Stephanie Urbana Jones, Susan Ashton, Grace Petis, Ruthie Foster, Tucker Beathard, Phil Keaggy, Randy Stonehill, Jim Brickman, Lee Greenwood, Scott Emerick, Mark Narmore, Jennifer Scott, Kim Carnes, and many more. 
The partial list of hit songwriters is as impressive: Jamie O'Hara, Casey Beathard, Tom Douglas, Merle Haggard, Gretchen Peters, Craig Wisman, Allen Shamblin, Rivers Rutherford, Chapin Hartford, John Hartford, Gary Nicholson, Sarah Evans, Gordon Kennedy, John Scott Sherill, Bobby Braddock, Gary Burr, Bob DiPiero, Marcus Hummon, Don Cook, Will Jennings, Jim McBride, Curly Putman, Jerry Reed, Mark Nestler, Kim Williams, Tom Shapiro, Buddy Buie, Sammy Hagar, and many more to come. 
Also as an occasional live sideman, he has performed with the late Kenny Marks, Steven Curtis Chapman, Gordon Kennedy and Ricky Skaggs, Matthew Ward, Phil Keaggy, Wes King, White Heart, Jamie Kyle, Allyson Taylor, Bill Anderson, John Arthur Martinez, plus many others. 
For Sony's ExtremeMusic.com, primarily a sync placement label, Rex created 2 continuingly successful albums in 2008, "Guitar Country" and "Ballad Country", with his songs appearing on hundreds of television, cable, internet, movie, video game fearures. Following on in 2014, Rex created "Pop Country", a popular collection of 20 original "sounds like hit country" songs on EMI's KPM label. 
He is also known for his collaborative work with Phil Keaggy on their progressive rock juggernaut album, Illumination (nominated for a Dove award), and their continuing productions together. 
Twice he has collaborated with Grammy winning guitarist Eric Johnson, trading solos on 2 songs on Rex's album Hero Shuffle, including the three guitarists Eric Johnson, Rex, and Phil Keaggy trading solos on the title cut. 
And for Rex's newest record, Eric plays incredible guitar on Rex's cover of Leonard Cohen's "Anthem". 
Joining Rex on his Hero Shuffle record was Billboard's 3 time winning Country Producer of the Year (and world renown session guitarist) Dann Huff, with Dann and Rex trading solos on 3 songs. 
Rex's latest album is All I Want Is You, with guests Eric Johnson, Phil Keaggy, Mark Douthit, and an added bonus track with Dann Huff, has been pre-released, with an official street date of January 1, 2022. 
Artist discography includes Prodigal (2000), Hero Shuffle (2005), Surfin' In A Hurricane (2009), Illumination (with Phil Keaggy 2018), All I Want Is You (2022)
_________________________
REVIEWS
_________________________
"In 2019, Rex Paul Schnelle hit an artistic home run collaborating with Phil Keaggy on Illumination. In Rex's new solo record, All I Want is You, he again flexes his guitar-hero muscles, but this time he goes even further to show off his range as a producer, writer, and multi-instrumentalist.  Rex has an uncanny talent for distilling the essence of another artist's style – sometimes across multiple decades! – into a refined and somehow exalted sound that produces a singular sort of cognitive dissonance in the listener's mind.  It brings the rush of hearing something new and extraordinary, accompanied by the warm fuzzy of a song you've heard dozens of times before.  Along the journey you will unmistakably hear Sting, Chicago, John Mayer, Oasis, and strains of Earth, Wind and Fire – and yet it's all Rex (along with brilliant cameos by Keaggy and fellow guitar hero Eric Johnson).  All you want is to keep listening."  - Matthew McMahon
"Dancing with the Pain" - Rex Paul Schnelle - All I Want is You album 
"The first thing you notice in the string section that kicks off the opening track of Rex Paul Schnelle's superb solo album "All I Want is You" is the urgency. It's the same urgency you find in The Police's "Message in a Bottle", and when the beat kicks in, you immediately know why – it sounds like The Police are playing the track! If I've given the impression that this is some cheap rip-off of another band, I apologize; nothing could be further from the truth. The best way to think about Rex is like a master chef who specializes in a certain style of cuisine. He takes the classic ingredients of that style, expertly adds and subtracts a couple of elements, and combines them in new ways to create a dish that is simultaneously familiar and fresh. For music lovers, it's worth diving into how the effect works. Baseball fans talk about "five-tool" players – those rare greats who are highly skilled in every aspect of the game. In popular music, a five-tool player is one who excels in 1) Songwriting, 2) Vocals, 3) Instruments, 4) Arranging, and 5) Production. On "Dancing with the Pain", Rex employs every one of these tools to create the effect. To begin with, it's a great song. Beautiful imagery makes for effective storytelling ("Swayin' with the prairie grass/The wind blowin' sassafras/I dream it every night since you went away"), while the melody captures that alloy of punk staccato and breezy rubato that marks Sting's vocal style. Rex delivers a great lead vocal here, and throughout the album his lead vocals are perhaps the greatest revelation. Casual music fans may not fully appreciate the difference in the skill sets that is often required between lead and background vocals. Rex has been producing and singing background vocals professionally for decades. Singing background harmonies in many styles, especially rock and country, trains you to sing precisely – in fact, unnaturally so. The goal is to produce a particular note while remaining unobtrusive, i.e. in the background. To do it well, you must learn to minimize vibrato, the natural fluctuation of the volume and pitch of your voice, and you also learn to shape your vocal tone so that it does not stand out. By contrast, effective lead singing is all about manipulating the envelopes of volume, pitch, pronunciation, timing and tone to convey a natural feeling and to stand out while doing so. Steven Tyler of Aerosmith is a master of manipulating the shape of his mouth and throat to produce the sound he wants. The very best singers are those who can access the greatest emotional dynamic range, which is why Ella Fitzgerald and Frank Sinatra are widely considered the greatest popular singers of all time. For a lifelong background singer to deliver a credible lead vocal performance worthy of Sting, as Rex does here, is a tremendous accomplishment. The sound engineering and audio production is great, and the sounds he recreates are a major element of the homage – the guitar chorus effect is emphasized almost to the point of exaggeration – but it's not just the sounds. It's that he's playing the instruments the way that The Police played them. It isn't an Andy Summers guitar part, but it's played the way Andy Summers would play it – with the possible exception of the guitar solo, which with all due respect to Summers is played better he ever could. It isn't a Sting bass part, but it's played with that part-punk-part-cool-jazz feel with the octave jumps that match the kick drum and the guitar hits. It isn't a Stewart Copeland drum part – it's, well, it's all the drum parts Copeland ever played melded into one. You hear this most clearly at the end of the chorus – there are those subtle but unmistakable hi-hat triplets from "Walking on the Moon" and "Message in a Bottle", a brilliant arranger's touch. The chorus itself isn't actually a Police chorus – it's a Sting chorus from the Ten Summoner's Tales era, only if it had been played by the Police. The vocal harmonies at the end of the chorus are pure Sting, reminiscent of the harmonies from "St. Augustine in Hell", except they are sung with the purer angst of Sting's Police vocals. The genius of this record is that it manages to comprehend several decades of Sting's career in a single track. The genius of the album is that this track is maybe my fourth-favorite from All I Want is You. More song reviews to come." - Matthew McMahon